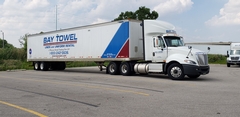 An update from your business partner, Bay Towel!
BAY TOWEL IS AN AUTHORIZED ESSENTIAL U.S. BUSINESS; AND IS FULLY OPERATIONAL.
We will continue to deliver healthcare textiles, and key business textiles essential to core American Businesses; most importantly the US food supply and healthcare system.
We have solid linen inventories and will continue to service all customers who are in need of our services. We ask you to please reach out to your Bay Towel representative, or contact us at 1-800-242-5606 with any changes to your service.
From the Bay Towel Family, Thank you for your partnership.