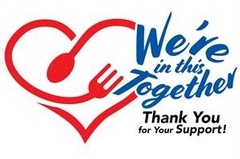 During the COVID-19 crisis, Bay Towel has continued operations as close to normal as we possibly can. Daily we are following COVID safety communication from local, state and federal guidelines from the CDC, WHO and HLAC along with honoring the "Safer / Shelter at Home" rules issued for Wisconsin for essential businesses. Daily we are all faced with new guidelines to protect ourselves from COVID 19.
In our continuous effort to put our Bay Towel family member's safety first, we have implemented a few additional practices. Below outlines our current and newly established workplace safety practices.
Current Practices:
6 feet physical distancing
Staggering lunch breaks
Staggering hours (example: TRR's returning from route at different scheduled times)
Minimizing face-to-face contact and using video conference or phone for communication
Wearing face masks at all time
New Practices:
Contactless Workplace - Avoid any direct contact when at all possible. Example, all documents that need to be shared with another co-worker must be done by either scanning and emailing or placing the document in their designated mail slot for them to retrieve later.
Staggering start times (effective 4/27/20 for production family members)
Optional: Wear latex gloves while at work.
Additional cleaning crew members
Completion of a Symptoms Questionnaire upon entry
Temporary discontinued use of vending and ice machines
New punch clock area to avoid crowding
Continue to be safe. We are all in this together.