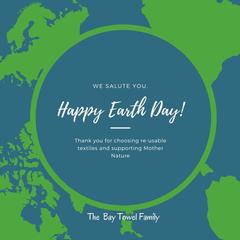 Reusable textiles save time and money long term while creating less damage on the environment. In honor of Earth Day, Bay Towel looks at our efforts to Reduce, Reuse, and Recycle.
Bay Towel has been in the business of reusable goods for a very long time. We provide linen rental services, uniform rental services and commercial laundry services in Green Bay, Madison, Milwaukee, Eau Claire, Wausau and throughout Wisconsin. Our commitment to excellence and service extends beyond traditional corporate boundaries by improving the communities we serve and enhancing the communities in which we live.
Bay Towel Reduce: We invest in new, energy-efficient equipment that results in immediate savings to our environment, including less water, waste and electricity. This includes our new dryers last year (60% less gas and electricity) and installing a new boiler this upcoming summer (10% less energy overall).
Bay Towel Reuse: Laundered, reusable linens, uniforms, towels, mats and other products provided by Bay Towel enhance a businesses' image and provides clean, safe environments for their employees and patrons. In our facilities, we also provide our team with reusable water bottles to save on plastic and to reduce the use of disposable goods.
Bay Towel Recycle: We have a hanger recycling program. Our team gathers wire hangers and returns them to our cleaning facilities where they are cleaned and reused, keeping unnecessary waste out of our communities' landfills, eliminating unnecessary new hanger production and reusing perfectly good materials.
The items listed above are not all encompassing of our efforts to better our environment, and simply provides a glimpse into our world. We continue to make great strides in recognition of our environment but recognize that there are other opportunities to continuously improve our sustainability practices.