Restroom and Facility Supplies
for your business.
Keep your business sparkling clean with high-quality and affordable restroom supplies and facility service products from Bay Towel.
We supply you with soap and paper dispensers, paper towels, hand soap, and air fresheners. All that you need to maintain restrooms so you can feel confident your business looks clean and professional.
To make the whole process easy, our Bay Towel Territory Route Representative can order and fill your supplies on an ongoing regular basis.
Call us at (800) 242-5606 or fill out our request a quote form to get started.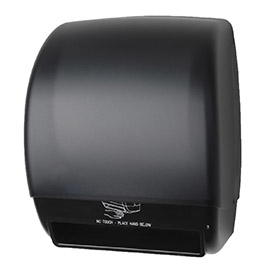 Product Options
We provide high-quality products with excellent customer service while also helping to control laundry expenses. Our customized service programs allow you to design a plan that is exactly right for your facility.
Product
Description
SKU

Case of Multi Fold White Paper Towel

9.25"x 9.4". 250/pk 16pks/case 400 per case

DSPTMF

Multi Fold Paper Towel Dispenser

5x11.375x15.25 in

PTMFDIS

React Roll Paper Towel, 6 per case

Natural Roll Towel

8" x 800', 6 per case

White Heavy Roll Towel

8"x 650', 6 per case

DSPTBN

DSPTWH

Pull & Cut Dispenser for Hardwound Paper Towel
PTPCDIS
REACT Automated Dispenser for Hardwound Paper Towel
PTAMDIS
Center Pull White Towel 2-ply, 600 Sheets per roll, 6 rolls per case
DSCNTRPL
Center Pull Paper Towel Dispenser
CNTRPLDIS

Case of Soy Pro Natural Industrial Hand Soap 2125 ml/bottle, 4 bottles per case

Soy Pro Natural Industrial Hand Soap Bottle, 2125ml/bottle, 1 bottle

DS2265

DS2264

Manual Dispenser for Soy Pro Industrial Hand Soap
DS2268

FoamFresh Animicrobial Soap Case, 1000ml,bag 6 boxes per case

FoamFresh Antimicrobrial Soap Box, 1000ml/box, 1 box

DS2276

DS2775

Manual Foam Fresh Soap Dispenser

10.5 H, 5.5 W, 3.75 D

2279

Automatic Hands-Free FoamFresh Soap and Alco-Foam Sanitizer Dispenser

2269
Case of Jumbo Roll Toilet Paper, 2-ply, 3.5"x 1000', 12 per case
DSTT9
Jumbo Twin Toilet Tissue Dispenser
TT9DIS
Case of Small Roll Toilet Paper, 2ply, 4.1" x 3.25", 500 sheets per roll, 96 per case
DSTT4

Two Roll Small Roll Toilet Paper Dispenser

6x6.02x13.13 in

TT4DIS

Alco Gel Sanitizer, 70 Case of 6, 750 ml refill bottles

Alco Gel Sanitizer 70 Bottle, 750 ml refill bottle

DS4000

DS4001

Manual Alco Gel Sanitizer Bottle Dispenser
DS4002
Automatic, Alco Gel Sanitizer Bottle Dispenser
DS4005
Alco Gel Sanitizer, Dispenser Stand
DSSTAND

Case of Germ X Original Hand Sanitizer 8 oz. Bottles, 12 per case

62% Alcohol gel

DS2882
Case of Spilfyter Wipes, 10.25" x 15", 125 Wipes per box, 6 per case
DSSW
Case of OmniGuard Urinal Cleaners, 6 per box, 1 box
DS2318
Case of CleanShield Urinal Mats, 6 per case
DS1604

Case of Tidal Wave Urinal Deodorizers, 6 per case

Mango

Cucumber Melon

Cotton Bloosom


DS2921

DS2922

DS2923

Case of Bowl Clip Deodorizers, 12 per case

Mango

Cucumber Melon

Cotton Bloosom

DS2941

DS2942

DS2943

Case of Eco Air Deodorizers, 6 per case

Mango

Cucumber Melon

Cotton Bloosom

DS2902

DS2903

DS2904

Dispenser for Eco Air Deodorizer
DS2901