Bay Towel provides the Manufacturing Industry with the highest quality linen rental services, uniform rental services, and commercial laundry services
We help manufacturing companies with the uniform rental and laundry services that can enhance safety and reduce costs. We've been providing customers with quality work uniforms and superior service for over 90 years.
Manufacturing facilities that partner with Bay Towel benefit from years of experience. We understand the challenges that face commercial, mechanical, and industrial professionals in today's economy. The pressure to balance quality, safety, and cost has never been higher.
What We Provide
Are you confident that all of your staff, your installers, technicians, machinists as well as production line workers look their best at all times? The quality of your product could be impacted by how they feel. Uniforms create a sense of connectedness for your workforce. When your line supervisors or managers also wear uniforms, it creates cohesiveness for the team that could flow to the quality of what is being delivered.

Not only are Bay Towel uniforms high quality, but they are also flame resistant and meet high visibility standards for the necessary workers. We take pride in what we deliver to you, knowing you take pride in the quality of the product that you manufacture and distribute. Your reputation is our reputation.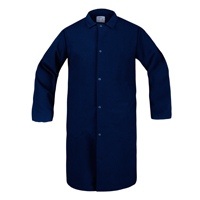 Manufacturing Coats
Pocketless frocks
Colored butcher coats
Cuffed lab coats
Lapel coats and smocks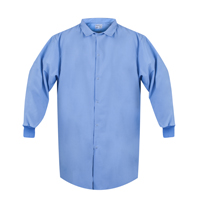 Specialized Uniforms
Long body work shirts
Pocketless snap-front shirts
Button-free polo shirts
Sweatshirts and fleece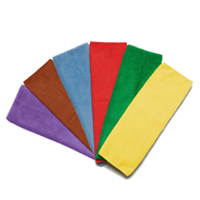 Sanitation
Walk-off and anti-fatigue mats
Microfiber cleaning towels
Microfiber mops
Restroom supplies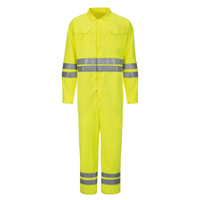 Maintenance and Transportation
Flame-resistant apparel
Hi-visibility apparel
Shop coats and coveralls
Jackets and vests
Uniforms
Bay Towel provides manufacturing or industrial businesses with uniforms that create that professional first impression. We supply you with pants, shirts, and jackets, gloves, hats, overalls, and coveralls. Initially, we work with you to determine the best mix for your workforce, whether they are on the road directly servicing your clients, or in your manufacturing environment.
Once we understand your needs, we'll set up a program to replenish your uniforms on a regular basis. Your Bay Towel Territory Route Representative will support this replenishment and work with you to make any adjustments to your supply program as needed.
Floor Mats
Floor mats are an integral part of any brick-and-mortar facility as they keep out the impact of the elements. Not only do they stop the mud and water being bought in during the cold and wet of winter, but they also save the dust from being bought in during Spring and Summer.
Wherever you need floor mats in your facility, from the front office to the back operations area, we have mats to suit that need.
Our replenishment program means during the worst of the weather, you won't be without clean and fresh mats onsite at your premises.
Restroom Supplies
Hygiene is a key part of keeping your team happy. Not to mention safe. We stock a full range of restroom supplies that means this is something you don't need to be focused on. Never run out of toilet paper, or hand towels. Don't worry that your soap dispensers aren't working. Your Bay Towel Territory Route Representative will fully service your facility.
Let us take the worry out of this whole area so you can focus on what you do best, providing outstanding service to your customers.