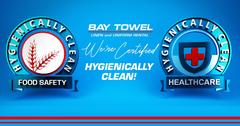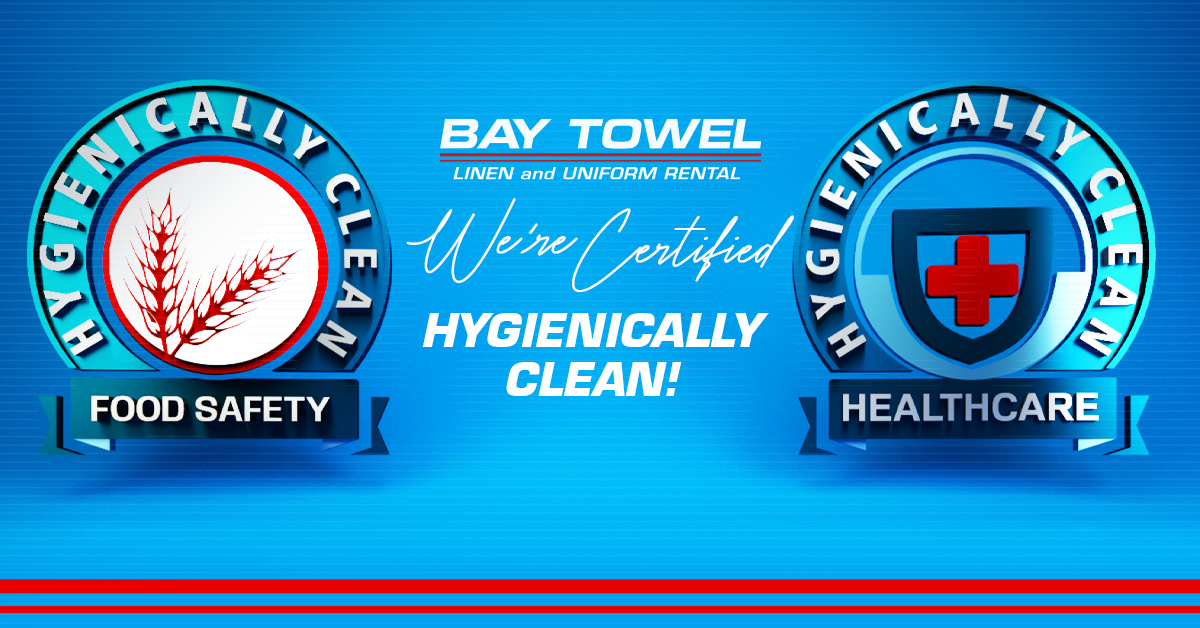 Earning the TRSA Hygienically Clean certifications for Healthcare and Food Safety isn't just an empty award or recognition. For Bay Towel, it's a testimony to our relentless pursuit of excellence and leading the charge in cutting-edge hygienic standards. It underlines our commitment to industry-best practices and cements our position at the pinnacle of linen and uniform rental services.
Understanding the Hygienically Clean Certifications
Hygienically Clean certifications are not just another set of accolades in the textile service industry that serve as nothing more than a decorative piece. These certifications recognize linen, uniform, and facility services companies that demonstrate unwavering dedication to upholding the highest standards of cleanliness. The rigorous evaluation involves a comprehensive laundry plant inspection complemented by third-party, quantified biological testing.
A Hygienically Clean certification is a testament that the plant processes used in a facility consistently meet, and often exceed, the demanding standards of cleanliness and management practices. It's about setting an industry benchmark and ensuring clients and partners experience the very best in our products and services.
Our Journey
When we embarked on the journey to attain the Hygienically Clean certifications, we knew it would demand the very best of us. Every process, every piece of equipment, and every member of our team plays a pivotal role in building an exceptional service. We meticulously review our operational procedures, optimize equipment, and enhance training programs. This way, we meet and even exceed the criteria set for these certifications.
Being awarded certifications for healthcare and food safety reaffirms our dedication to providing unmatched service quality. In healthcare and food safety domains, stakes are high, and the margin for error is small. Officially recognized as an industry leader in hygienic processes, we prove an understanding of the profound benefits a sanitary environment plays on quality patient care and memorable dining experiences.
Why This Matters to Our Clients
Our clients trust us with their linens and uniforms, knowing well the importance of hygiene and cleanliness in their operations. Achieving these certifications reinforces this trust and provides added assurance that with Bay Towel, you are in hygienically clean and caring hands.
Every piece of linen and every uniform that comes through our doors undergoes a cleaning process that aligns with the high standards of the Hygienically Clean certifications. We're not just meeting expectations; we're raising the bar.
Looking Forward: A Commitment to the Future
We wear our Hygienically Clean certifications with pride, but our commitment doesn't end there. This is yet another milestone in our journey of delivering a premier service to you. We innovate, improve, and uphold these standards so our clients receive the gold standard in linen and uniform rental services.
Our certifications serve as an achievement to celebrate and a standard to continuously uphold. With unwavering dedication to quality, cleanliness, and client satisfaction, we are excited for the journey ahead. Let's write the next chapter on high-quality service together. Call us today at (800) 242-5605, or email us to learn more about our products and services!